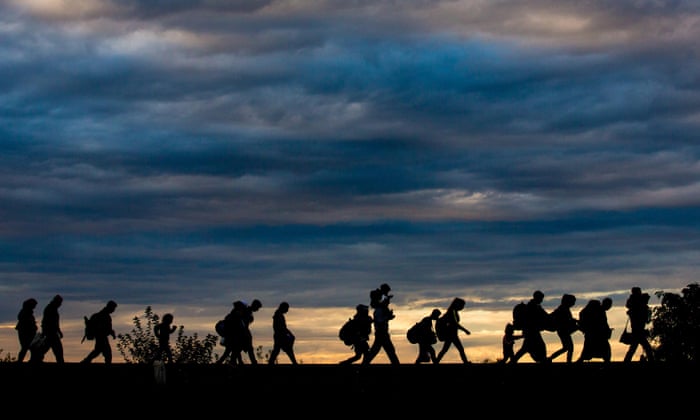 There has been a lot of discussion about refugees in the news of late and a dialog of fear often accompanies the conversation. There are dire situations around the world that result in people being displaced from their homeland due to wars, persecution or natural disasters.  This officially makes the people involved, refugees–in pursuit of refuge.  This can happen in a land far away or in your own community. It's not new news, but it appears to be happening with greater frequency and is a popular topic.
We often think of refugees as foreigners- perhaps from the middle east. However, I find there are also local people who have become displaced  for any number of similar reasons- the spouse that raises a hand as a solution, the family whose home was struck by a tornado,  the couple living on the financial edge at the brink of disaster, the "outsider"
who isn't like us in one way or another and their life is made a living hell.
Refugees are near and far.  Any fear we muster pales in comparison to what someone being displaced must feel.
When I grew up there were two young girls who joined our school mid-year.  They were from Cambodia.  Speaking absolutely no English they were integrated into my fourth grade class.  Thankfully they were fairly well accepted and we oblivious girls tried to make them feel welcome.  We had no idea about their nightmares,  or the devastating sights they must have seen in their homeland.  We rode our bikes, played with our dolls, ran outside for freeze tag and kick ball without a second thought.  Refugees were fairly unusual in our middle class, suburban neighborhood at the time.
In a completely different situation I recall two siblings temporarily staying with my family because their father was dealing with mental illness.  I remember driving down a busy avenue looking out the back window with fear their dad might come after us.  I couldn't have imagined what was going on inside our friends.  I selfishly harbored a high level of anxiety -probably not thinking twice about how they must have felt.
Not too long ago a woman from Iran spoke in the church about the growing population of Christians in her homeland.  We saw images of hundreds of people being Baptized and heard amazing stories of people coming to know Jesus.  Talk about fear,  this woman's  life is in constant danger.  She and her family have been imprisoned and threatened over what they are doing.  Yet, she has the passion and calling to continue with her efforts as a Christian converting Christians in a land of few Christians. Photos cannot be shown for her protection. Worth noting is the extreme danger she is under and the strength of her convictions.
Most are familiar with stories of families in World War II who hid persecuted men, women and children from the atrocities of Hitler and the Nazi regime.  The fear of being discovered and sent to a concentration camp- how could they face each day?  Underlying thoughts of fear and trepidation must have engulfed them.
While we, in our warm homes with stocked refrigerators, scan our tech devices for funny photos and celebrity tweets, have we considered the desperate situation that hundreds of thousands, if not millions, of people are facing each day?  It's easy to forget the tent dwellers thousands of miles away as we cozy up to our memory foam mattress.
There's another refugee story, from the middle east, involving a couple who needed a place to rest following a long journey.  The woman was going to have a child soon.  There wasn't a great place for them to stay because there were already so many people in the area. I can't say with certainty what their accommodations ended up being, but I have read that  the setting was not ideal.  After the baby was born he was placed in a feeding trough for horses and cattle.
The birth went well, but not too long after, the family had to uproot themselves and go from their homeland to a foreign land.   They had to hide from a horrible king whose mission was to find this particular baby and kill him.  The family became refugees. They somehow survived the journey to the far off land and maintained an existence there until they could safely return to their homeland. The baby was not harmed.
You might be familiar with this family too.  In fact, we just celebrated the occasion of their baby's birth…Christmas.  The baby's name was Jesus and he, along with Mary and Joseph, lived as refugees until they could be safe.
With all of these stories it becomes evident that, aside from having amazing perseverance and determination,  there were people who surrounded the victims to help them and provide as they could.  Though not every story has a happy ending, during the time of refuge these people were cared for.  I imagine the love shown through small gestures to the refugees was worth more to them than the effect that any amount of money could provide.
When I look at today's refugee crises around the world I ask what can be done to help?  What better place to look than the Bible?  There are stories of refugees from just about the beginning of time.  We are given clear direction on how to care for them.
Feed the hungry,
Give drink to the thirsty,
Provide rooms for the homeless,
Offer clothing for warmth,
Visit the sick and imprisoned.
Every time you do this for one of Jesus' children, and we are all Jesus' children, it is like you are doing it for him.  I don't want to carry that burden because it's simply not the right thing to do.
Without regard to where you stand politically, we are called to take care of all people. Politics get in the way and delay taking action.  The week I heard the Iranian woman share her journey to Christianity the following was said:
People who think do not change the world.
People who act change the world.
People who think and act change the world forever.
When you do what Jesus tells you to do, water will turn to wine.
Write a check, provide food, purchase or donate clothing, make yourself available, extend a welcome, cook a meal, say hello or offer a smile.  Help turn water into wine.
There are many organizations who provide aid to refugees.  One that I put my trust in is Lutheran World Relief  –  http://lwr.org/
Europe and the Syrian Refugee & Migrant Crisis

Photo: REUTERS/Kai Pfaffenbach, courtesy of Trust.org
AS THE CIVIL WAR IN SYRIA CONTINUES, the number of civilian casualties, internally displaced people and refugees continues to grow. According to UNHCR, 11.6 million people are in need of assistance, 7.6 million people are displaced within Syria and over 3.9 million have taken refuge in neighboring countries such as Jordan, Lebanon, Iraq, Turkey and countries in North Africa.
LWR's Response
Supporting ACT Alliance members in providing humanitarian support. ACT members are providing hygiene items, winter coats and blankets, emergency shelter and psychosocial support in Hungary, Serbia and Greece.
We are in contact with the ACT Alliance to determine additional needs on the ground. We will continue to channel our support to the refugee crisis through the ACT Alliance to ensure a well-coordinated response.
Lutheran World Relief is shipping Mission Quilts, Baby Care Kits and Personal Care Kits to Serbia to distribute to refugees and migrants. Since October 2012, LWR has provided $7.05 MILLION in assistance to Syrian refugees, reaching more than 235,912 BENEFICIARIES.
YOU CAN HELP
Give to the Crisis in Syria fund. Your cash donations will support the response of our partners in the ACT Alliance.
Make Quilts and Kits. Donating Quilts and Kits helps ensure we have an adequate supply to send around the world to partners who request them, as well as in response to emergencies.
Pray for the people affected by this crisis and the humanitarian aid staff working to reach them.